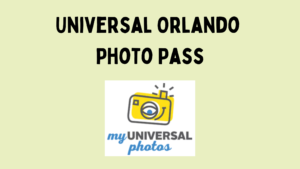 We recently took a trip to Orlando to Universal Studios. It was our first time there so we wanted to capture a lot of memories. As someone who loves photos and is usually the one taking them I love having pictures to look back on. I decided that was an expense worth the money to us so we got a Universal Orlando photo pass.
I had heard different stories about how many options they offered for their passes as far as the number of days. Many online had stated 1, 3, and 5-day passes. From the Universal website, you can get a 1-day or a 3-day package for all parks or a 1-day package for Volcano Bay. The cost to purchase from there at their website. The 1-day package is $69.99 and the 3-day is $89.99 ($10 cheaper than at the park). The 1-day for Volcano Bay is $39.99 ($10 cheaper than at the park). The My Universal Photos site also has packages listed but it did not state whether you got the physical 4×6 and 5×7. For the same price I opted to purchase in the park. You can view the packages on that site here.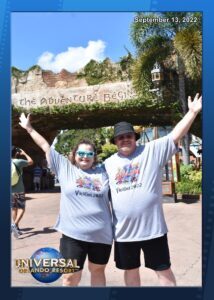 The 1-day all-park package gives you one day of photos in the park with unlimited downloads of your photos for a year. You also get a My Universal Photos themed lanyard and card, which is useful as you need to show the card and QR code to each photographer. You get discounts on My Universal Photos photo gift product both in-park and online. You also get one 4×6 and one 5×7 print at the time of purchase. I will note that there are some photos that you cannot get with this. Some photos are considered premium. For instance, you cannot get any of the Harry Potter ride attraction pictures in this manner. They can only be purchased as an 8×10. You also do get exclusive pricing on park photo prints.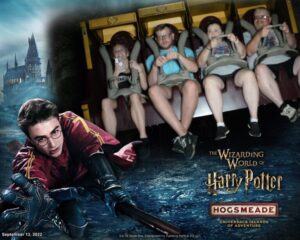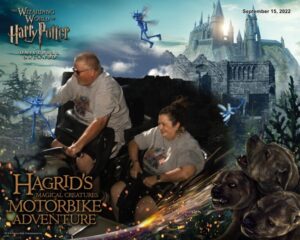 The 3-day all-park package gives you three days of photos in the park with unlimited downloads of your photos for a year. You get all of the same as the 1-day package above and the pricing for extras is $10.00 for an 8×10, $5.00 for a 5×7, and $2.00 for a 4×6.
The 1-day photo package for Volcano Bay includes one day of photos at Universal's Volcano Bay with unlimited digital downloads of your photos from participation locations. This means that sometimes some photo spots may not be active and that is for any of the parks.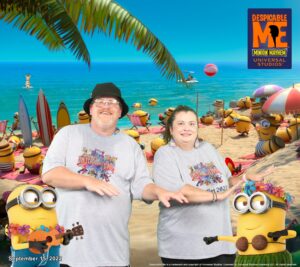 Now we get deeper into this and what we learned and can share about our experience. I could not get clear answers anywhere that I checked so I did call Universal a few days before our trip. The lady on the phone stated to me that the 5-day is only available as part of a package. We did book a package back in February and it is very likely it asked me if I wanted one and I just didn't pay attention or didn't want to do it at that time. I honestly do not remember. I was told I could get the 3-day pass, 30-day pass, and annual pass inside the park. We were there from Saturday to Friday and we wanted to get a 5-day to use Sunday to Thursday if it was available
We spent our first day there just unpacking, settling in, and resting. We did walk through City Walk that night but that is it. On day two we had planned to only walk through the parks and familiarize ourselves because we figured it would be busy on a Sunday. The photo store is right near the front of the park entrance to the right so it was super easy to find. We verified our options and got the 30-day pass because there was no way I could decide which three days I wanted to use the pass on as it has to be consecutive days. I am pretty sure it was $139.99 plus tax. Upon purchase, they had a QR code at the register for you to scan that takes you to the My Universal Photos website. There you can find information on where the opportunities are in the parks and view your photos. You definitely want to save that and bookmark it. They will give you a card that has your QR code on it. This needs to be shown to each photographer. They take a picture of your card before your picture and that is how they keep track of everyone's photos. Only once did we get someone else's pictures and once we did not get our pictures at the Islands of Adventure. Hopefully, in the future, they can do as Disney does and have it all be electronic and more accurate.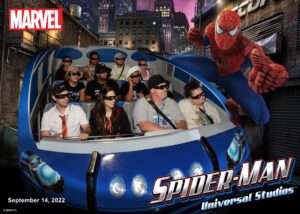 We ended up doing a few things and getting a few pictures that Sunday because it was not really crowded for many of the rides. We rode a few rides and we did get pictures at both entrances to the main parks Universal Studios and Islands of Adventure. We left for our room at Cabana Bay that afternoon. Halloween Horror Nights was going on over in Universal Studios so we had to be out of there by 5:00 anyway. The other pictures we got that first day at the parks were at The Dark Room on Hollywood Boulevard in Universal Studios just down from Schwab's Pharmacy where you can enjoy things like ice cream sundaes, malts, milkshakes, ice cream floats, and banana splits. I thoroughly enjoyed my malt. It is highly recommended. In The Dark Room, they have green screens so you see the background you will have and pose while looking at that background on the monitor in front of you. There are two sides and each machine has four different photo backgrounds. We also did this another day while there and found out you can ask and choose from other available backgrounds they may have and the staff member manning that location can fix you up so you can get those other backgrounds. You just have to ask. They were pretty fun to do.
We spent so much time relaxing at the resort and visiting these two parks with also one day at Magic Kingdom that we never made it to Volcano Bay. There are 14 spots listed for this location for photos. Several of these are selfie-post spots. There are also two of these in Universal Studios out of those ten. Next time we will be better prepared and plan to stay a couple more days. Overall, if you love pictures and memories it is so worth it to get the pictures. If you have a large group you could even split the cost as it is one photo pass per group and not individual.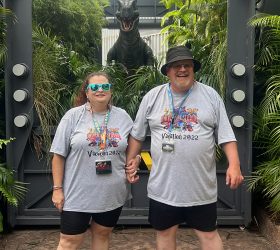 My takeaway is that we will do the photo package again at least the next time to get what we missed before and honestly I probably will always get it because I am me and love photos and capturing moments and memories. If you don't want to do the photo package or cannot afford the expense there are still plenty of opportunities for character pictures where the workers will take pictures for you on your device and many great spots for selfies!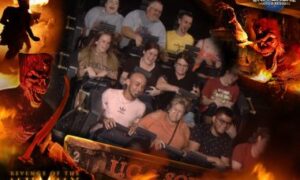 Stay tuned for more posts about our trip with any advice and recommendations I can make that we found useful during our trip. Also, tune in to my TikTok as I have been slowly dropping various videos about our trip. We definitely appreciate all of the YouTubers, bloggers, and Facebook group members that gave advice and recommendations for our trip so I want to pay it forward. I had the most trouble finding accurate information on this and never found the website until we got to the actual park so I hope this helps someone.
Again, to view the site listing the photo spots you can click here. Here are a few more of our photos.