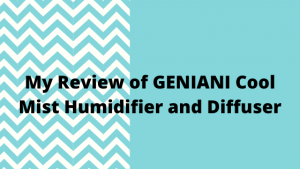 I want to talk about this nice larger size diffuser I got this week. There are many health benefits to humidifiers and I love using essential oils throughout my home. This one has a larger tank so filling the tank makes it last about 24 hours which is way longer than my current diffusers will run with their smaller tanks so I decided to try this one.
This item sells for $56.94 on Walmart.com. For a larger item like this with the features it has I found that to be a pretty good buy. The item arrived in a timely manner even considering we are having delayed shipments with the whole COVID-19 situation we are in. It took just a few days to get to me. I will post my review video at the bottom of this but I want to go over a few things here before I do that.
The basics purpose of a humidifier is to add moisture to the air. Cool mist humidifiers have many benefits, one of which is to help with issues with coughing and congestion due to a cold. A cool mist humidifier is also considered safer for babies and children because there is no burn hazard. A cool mist humidifier is also more energy efficient and can be used year round. They are also known for being less noisy which is another reason they are great for use in a nursery or child's room.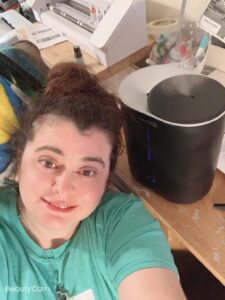 Now let me talk about this particular item. I found this humidifier to be very quiet. I could not even tell it was on. I have used it in my home office and in our bedroom with no issues relating to it being too loud. It has three levels of low, medium and high. I have been keeping it on low because for me that seems to be all that I need. It does have a small amount of light coming off of it making it like a very light night light.
I really like the fact that this is a larger item with a 4 liter tank so it lasts about 24 hours. Many of the smaller diffuser style items only hold a small amount of water. You simply grab a cup and pour the water into the tank and it is ready to use. I also really like the sleek look this one has. It looks fine if you have it in a room where it will be seen by visitors.
Now let's talk about the diffuser side of this. I love essential oils. I have a few different ones that I like to use regularly. Being able to use oils with this humidifier is a definite plus. You just pull out the little compartment on the back and drop your oils onto the cloth and pop it back in. I have been using it in my office with an oil that promotes energy and focus called Zest from Hopewell Oils. I use it in the bedroom with an oil that promotes restful sleep called Peaceful also from Hopewell Oils. You can check out their oils on their website Hopewell Oils. They are my favorite place to order my essential oils.